News
---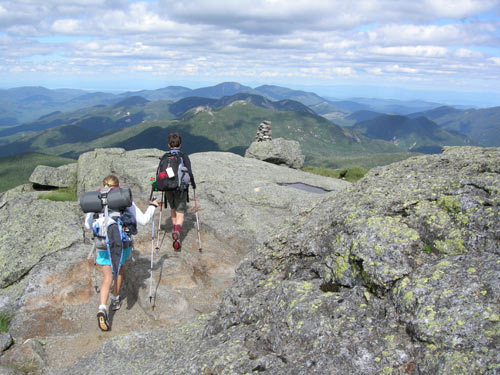 EXCELLENCE IN CRAFT AWARDS
In June 2018, the Outdoor Writers Association of America honored Lisa with seven Excellence in Craft Awards in the following categories:
1st Place - Magazine - Family Participation/Youth Outdoor Education: "River Rats" (Outdoor America)
1st Place - Magazine - Gear/Technical: "Emergency in the Mountains" (Colorado Outdoors)
2nd Place - Book - General Audience: "Hiking the Adirondacks"
2nd Place - Magazine - Family Participation/Youth Outdoor Education: "Tots on the Trail" (Image)
2nd Place - Magazine - Outdoor Fun and Adventure: "On Crane with Wayne" (Adirondack Explorer)
2nd Place - Photography - Family Participation/Youth Outdoor Education: "Backpacking Kids" (Hiking the Adirondacks)
3rd Place - Book - General Audience: "Ski Faster!" To see these award-winning works, click on the title.
---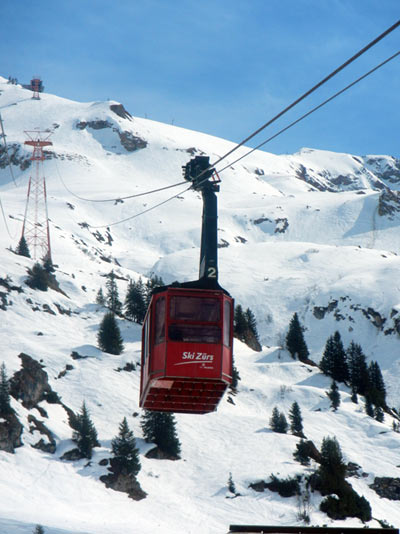 NORTH AMERICAN SNOWSPORTS JOURNALISTS ASSOCIATION (NASJA) AWARDS LISA ITS PRESTIGIOUS HAROLD HIRSCH AWARD
In April 2018, the North American Snowsports Journalists Association (NASJA) honored Lisa with a Harold Hirsch Award for Feature Writing. Though she has previously won Hirsch Awards in the Television/Film and Column categories, it is Lisa's first time winning the Feature Writing category. The award is based on a composite of three articles: "The Mountain Mapper" (NSAA Journal, Winter 2017), "Very Vail" (Here in Hanover, Winter 2016-17) and "Skiing Austria's Alberg" (Woodstock Magazine, Winter 2016-17). To read these articles, click here.
Judges' comments about Lisa's work: A good mix of topics in this portfolio, highlighted by a very interesting story about mapping ski areas. As the writer says, a ski map is something we all take for granted-yet she found a fascinating man behind that art and brought his work to life for her readers. Her colorful descriptions of Vail, interwoven with her personal history at the resort, made for a fresh take on a familiar place. And the detail in her piece about Austria gave readers a strong feel for the thrill of the skiing and the charm of an exotic destination. Source: NASJA.org.
---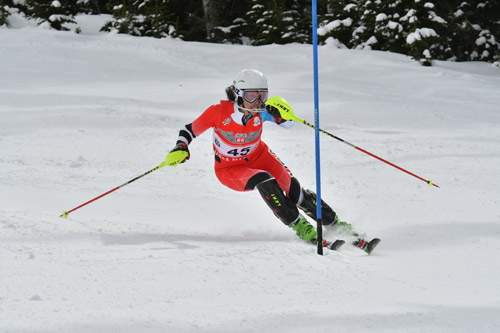 LISA WINS MASTERS WORLD TITLES IN SUPER G AND SLALOM
In mid-March 2018, Lisa won the the Super G and slalom in her age group during the Masters FIS Criterium at Big Sky, Montana. (She did not race in the giant slalom.) The field of about 300 racers traveled to Big Sky for the event from 19 countries around the globe.
---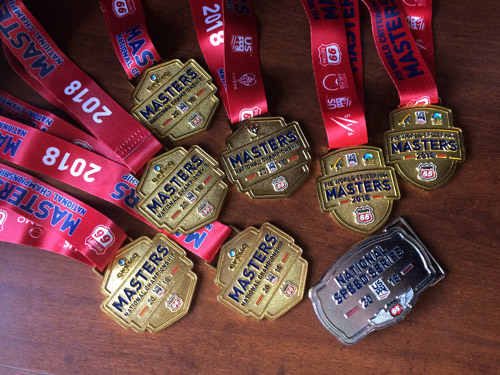 LISA SURPASSES 100 NATIONAL MASTERS TITLES IN SKI RACING
In February 2018, Lisa swept her age group at the U.S. Alpine Masters Championships at Okemo, Vermont, winning the Super G, giant slalom and slalom. Later, in March, she won the downhill at Ski Cooper, Colorado and the National Speed Series title in her age group, which allowed her to surpass 100 national titles in masters ski racing. (She has 102.) Lisa is the first woman to every achieve surpass this mark.
To read about more about Lisa's ski racing in Outside Magazine, click here.
---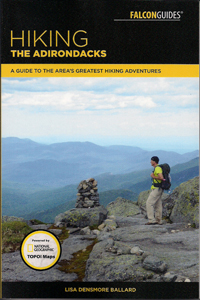 2nd EDITIONS FOR LISA'S ADIRONDACK HIKING GUIDEBOOKS
New this spring, FalconGuides has released 2nd editions of two of Lisa's popular hiking guide books, Hiking the Adirondacks and Best Easy Day Hikes Adirondacks. Lisa is particularly excited about Hiking the Adirondacks, which includes five new hikes and is now a colorful 340 pages, with many more photos (most of them taken over the last two years).
---
EXCELLENCE IN CRAFT AWARDS
In June 2017, the Outdoor Writers Association of America honored Lisa with two Excellence in Craft Awards for photography. Lisa's photo, "Sunrise Hunter with Horse", which appear on the cover of Lowa's hunting footwear catalog, took 2nd place in the "People" category. Her photo, "Kayaker on Bowman Lake", which was published in Woodstock Magazine, took 3rd place in the "Outdoor Fun & Adventure" category.
Please click on the photo covers to view them larger. Then click on the directional arrows.
---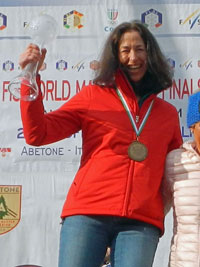 LISA WINS THE INTERNATIONAL MASTERS SUPER G TITLE
On April 8, 2017, Lisa was awarded the FIS Masters title for women's super G during the FIS Masters Cup Finals in Abetone, Italy. The FIS Masters circuit is a season-long world cup for masters ski racers (age 30+). Lisa garnered her crystal globe after winning races in South America, North America and Europe during winter 2016-17. She also finished the season ranked 3rd overall in her age group.
---
SKI FASTER! GUIDE TO SKI RACING AND HIGH PERFORMANCE SKIING, 2ND EDITION
Lisa is excited to announce the long-awaited 2nd edition of her top-selling ski book, Ski Faster! The book was released in December 2016. Over 80% of the book has been revised compared to the first edition, which was published in 2000 by Ragged Mountain Press, an imprint of McGraw-Hill.
Lisa is self-publishing the 2nd edition under the Rocky Fork Media moniker, formed by Lisa and her husband, writer/photographer Jack Ballard. It is Rocky Fork Media's first book. For more information and to order a copy of the book, click here.
Please
click here
to send this page to a friend.
Don't forget to add this page to your "
Favorites
" or "
Bookmark
" List.